happening here too on Windows server 2019 as well as Windows 11
Same here, suddenly. Windows 11.
Rendered Mailspring unusable when in need. Built Windows' Mail don't send messages.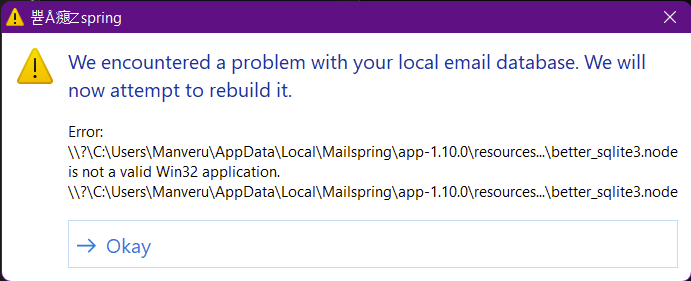 You can checkout my post at Database Error and unable to launch app after installing V1.10.0 - #11 by Predeactor to see how I fixed my Mailspring instance, works for many peoples here

Didn't work for me. I deleted the whole Mailspring folder, still getting the error when I'm trying to reinstall.
Same here.
v1.10.0 Update killed Mailspring.
I downgraded to v1.9.2 and it is work now.
Win 10
Didn't work for me either! Just cancelled my Pro subscription since I have no app to use!!! Also, so very frustrating that there is no way to contact them other than posting on these boards! Can't get any sort of help and no way to make this work. Very poor customer service for sure!!!