Description
I had to change my password of mail webmail (hotmail), so I changed to Mailspring too, however after a few
To Reproduce…
Steps to reproduce the behavior:
Change your password of your mail account
Report the changed password to your mailspring email configuration
Wait a few hours or few days (1 to 3 days).
Results:
It will work during this time but after few hours or days (usually 1 day) without doing anything it will return to the previous state by itself, the synchronisation with your webmail becomes impossible and you will have to reconfigure the password of your email on MailSpring and you will have to do this again, and again and all over again. You will no longer able to uses your mail in MailSpring without doing this procedure every time it needs !
Screenshots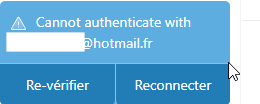 Setup
OS and Version: Windows 10
Mailspring Version: