Description
Can't start the actual application after the login page, when I try to skip Mailspring form, it hangs with the message: Working…
To Reproduce…
Steps to reproduce the behaviour:
Start the program
Click on "Just need the basics? Skip for now"
Click on "Skip Mailspring ID"
See message: Working…
Expected Behaviour
I would expect some kind of UI related to the software
Screenshots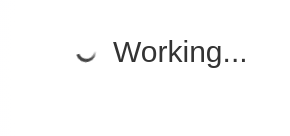 Setup
OS and Version: Fedora 34
Installation Method: snapcraft
Mailspring Version: 1.9.2
Additional Context
I tried the RPM installation method and I can see this message now:


I followed the instructions there and installed gnome-keyring and I realized it was already installed, I am not sure what other detail I can provide.
Package gnome-keyring-40.0-1.fc34.x86_64 is already installed.