Description
Consider that in my Mailspring, I am logged in with abc@mailspring.com. There is another email id, gmail@gmail.com. I do not use mailspring for gmail@gmail.com.
Now gmail@gmail.com sent an email to abc@mailspring.com.
abc@mailspring.com replied back.
gmail@gmail.com replied back on the same thread but changed the subject
abc@mailspring.com replied back on the last email and again changed the subject.
In the above case mentioned, even if gmail@gmail.com changed the subject, Mailspring is showing the email in the same thread. There is no place where i can see the changed subject of the email. On the top, you only show the subject of the first email.
Lot of time, certain information is only mentioned within the subject
Screenshots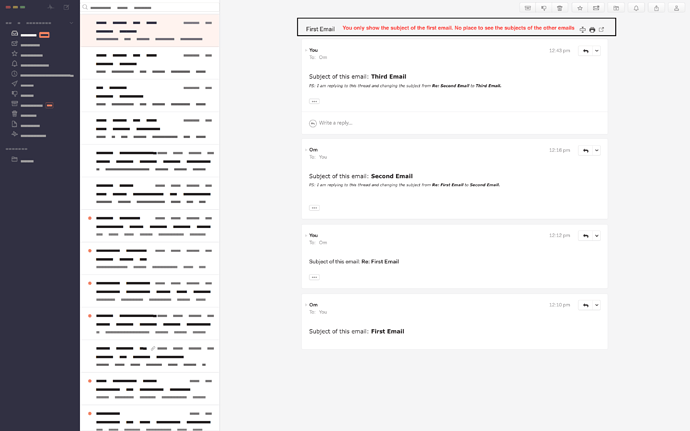 Setup
OS and Version: MacOS v10.13.4
Mailspring Version: 1.2.1
Additional Context
If you solve this issue, #894, you will eventually solve this issue.
Gmail has thread level subject, but subject of each email is also accessible. In Mailspring, we there is no way to see email level subject line.

---
(Originally posted by patelom on GitHub.)