Description
After hitting #2216, I generated an IMAP password for fastmail, but my credentials are always rejected.
To Reproduce…
Steps to reproduce the behavior:
Open mailspring.
Log into a mailspring account.
Select fastmail as a provider.
Visit Fastmail.
Generate an app password (IMAP, read-only: false).
Provide that password to mailspring.
Expected Behavior
App password should work
Actual Behavior
The password is rejected. I've generated it a few times, and both copy-pasted and manually typed, just to make sure there's not dumb issues like that.
The log file provided says (there's some weird encoding issues in the file, but I don't think that's relevant):
----------IMAP----------
connect <mailcore::IMAPSession:0x7fff2cf29e10>
* OK IMAP4 ready
ssl connect imap.fastmail.com 993 2
OpenSSL version: OpenSSL 1.1.0f  25 May 2017
1 CAPABILITY
* CAPABILITY IMAP4 IMAP4rev1 LITERAL+ ENABLE UIDPLUS SASL-IR NAMESPACE CONDSTORE SORT LIST-EXTENDED QRESYNC MOVE SPECIAL-USE CREATE-SPECIAL-USE IDLE AUTH=PLAIN
1 OK completed
connect ok
login
2 LOGIN "hugo@barrera.io" *********
2 NO Incorrect username or password.

Screenshots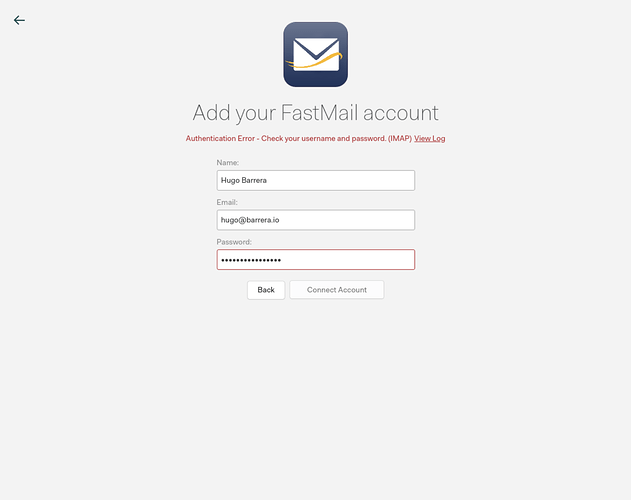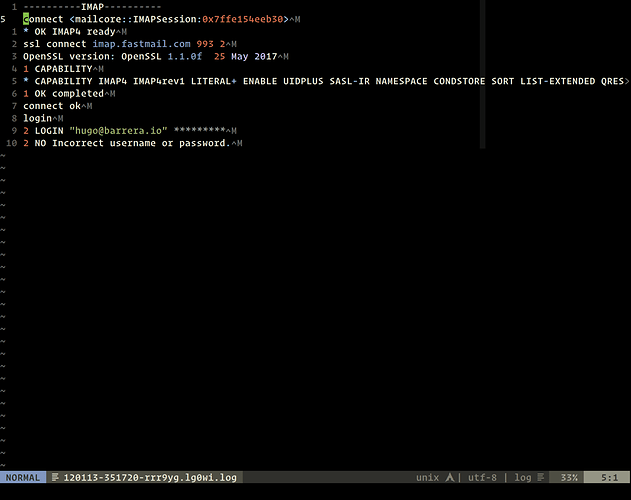 Setup
OS and Version: ArchLinux
Mailspring Version: 1.7.8-13635bcf
---
(Originally posted by WhyNotHugo on GitHub.)