Description
NET::ERR_CERT_DATE_INVALID
To Reproduce…
Steps to reproduce the behavior:
getmailspring.com
Expected Behavior
No NET::ERR_CERT_DATE_INVALID error
Screenshots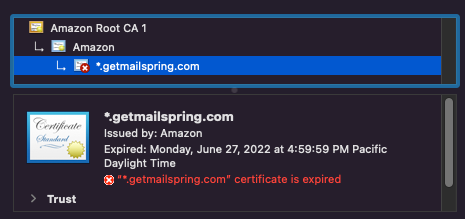 Yup. can't sync on this end either, looks like it lapsed
Same here. Also seems to be affecting the app too - Can't connect to any of my inboxes.
Hi, same problem. Can't connect and when I reconnect manually there is no sync.
Same here. Also can't use the mac app too.
Still ongoing ! Pleas fix this ASAP
Just created another post about having no service, but I guess this is the cause of what I'm experiencing? Has this happened before? Anyone know how long this would take to fix?
24 hours and the SSL certificate is still expired :-/ It's normally not this long to renew it, what's happening ?
The certificate is still expired, but I am able to send and receive mail now where I wasn't before.
SSL cert is UP! Thank you Mailspring
How to fix this bug? Thank you