Description
Icloud account has repeated connection failure.
To Reproduce…
Steps to reproduce the behavior:
Start mailspring
Expected Behavior
expect my icloud account to sync - it does not sync
I get a red error -
Go to preferences to re connect account.
I get an error that says "Sorry this folder does not exist (IMAP)
Screenshots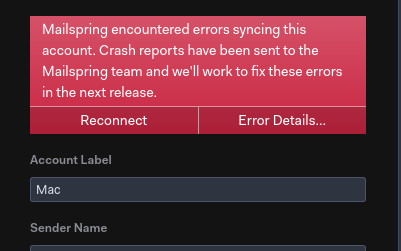 Setup
Mailspring Version: 1.9.1-30ef802f
Platform: linux
Pop!_OS 20.10
Install method -
snap from the snap store
Additional Context
I am only having problems with icloud. Gmail and Exchange are both working. I cannot post the log info because I am a "new user" and am only allowed "2 links" go figure.