Description
I'm using Mailspring with an IMAP/SMTP account. For most emails, everything works fine. When I sent an email with an attachment, however, it seems to be delivered successfully (see below), but does not show up in the 'Sent' folder. Neither in Mailspring itself nor on other clients accessing the mail server. There seems to be no record of whether the email has been sent or not.
When using clients other than Mailspring with the same configuration, everything works as expected.
To Reproduce…
Steps to reproduce the behavior:
Compose and sent an Email that has any attachment.
Wait for "sending message…" to finish and hear success-sound.
Check 'Sent' folder
Expected Behavior
After sending, the email is shown in 'Sent' and synchronized to the mailbox's Sent folder on the mail server.
Screenshots
After sending 7 emails to another one of my email accounts
(with/without attachments)
from Mailspring / Thunderbird / my provider's webclient I get the following results:
(I accidentally called email 4 "email 1" again)
Note: the receiving mailbox is on a different mail-server and does not use Mailspring at all.
In the receiving account: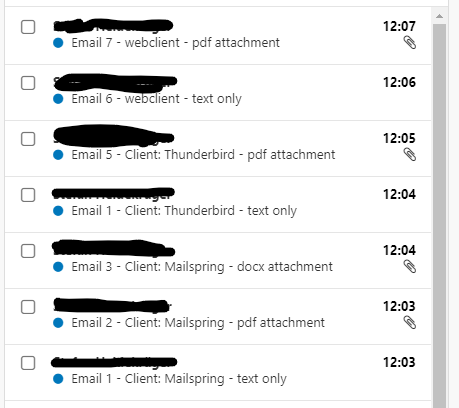 In the sending account:
(Mailspring shown, but looks the same in thunderbird / web client):

Setup
OS and Version: Windows 10 Pro 1909
Mailspring Version: 1.7.8-13635bcf
Additional Context
Happens with an IMAP/SMTP account. Not tested with other providers.
I started using Mailspring a few days ago and have been really loving it so far, but this is, unfortunately, a dealbreaker for me as I lose records of important messages.
---
(Originally posted by heidekrueger)
Confirmed by another user.