Description
The search box for a Microsoft 365 account appears to work only with the most recent (probably locally-cached) messages. If I use the since and before keywords, I get a list of messages that say Retrieval using the IMAP4 protocol failed for the following message: XXX , where XXX is the number of the message (see screenshot below)
To Reproduce…
Steps to reproduce the behavior:
Go to the search box and type a custom date range, i.e. since: "2020/02/05" before: "2020/02/07"
Click on any message found, they should be all the same. In particular,
Sender: Microsoft Exchange Server
Object: Retrieval using the IMAP4 protocol failed for the following message: 205
No body (spinning wheel implying that the message is loading)
Expected Behavior
I guess the messages, that are correctly found in the sever, should load kind of quickly (within a minute or so). They are found very quickly and they are mostly text-only, so I would expect fast loading.
Screenshots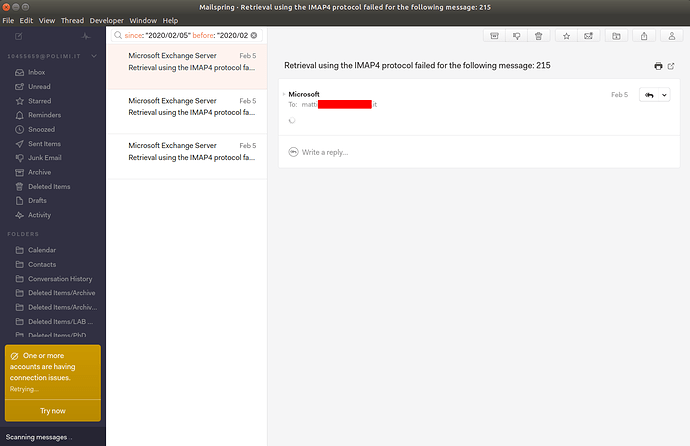 Setup
OS and Version: Ubuntu 18.04 LTS, Linux kernel version 4.15.0-1081-oem
Mailspring Version: 1.7.8-13635bcf
Additional Context
I have set up only the Microsoft 365 account of my organization. I also get the "One or more account are having connection issues…" message quite often (it is also visible in the screenshot), but the syncing of messages works well…
---
(Originally posted by mp1994 on GitHub.)