Description
To Reproduce…
Steps to reproduce the behavior:
Unfortunately I have no steps to describe as the attached windows keep popping up without any explanation. The strange and suspicious thing is that all these 'Compose' windows open with an attachment 'database-agent.js'
Expected Behavior
Screenshots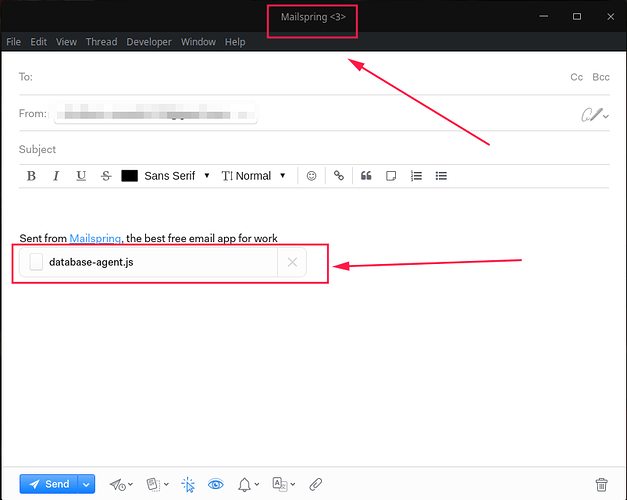 Setup
OS and Version: Linux Deepin

Installation Method: Flatpak version of 'MailSpring' installed from 'Flathub'

Mailspring Version: 1.9.2
Additional Context
IT IS REALLY ANNOYING WITH THE THESE POPUPS CROWDING MY DESKTOP UNEXPLAINED. THE SUSPICIOUS PART IS ALL OF THEM HAVE AN ATTACHMENT AUTOMATICALLY ATTACHED TO THESE COMPOSE WINDOW BY THE NAME 'database-agent.js' … AND AN EVEN MORE ANNOYING THING IS THAT I CAN'T CLOSE THE WINDOWS AS DOING SO WILL FLOOD MY DRAFTS FOLDER WITH THESE GREMLINS. I HAVE TO DELETE EACH ONE OF THEM.
MY FIRST EXPERIENCE … SURELY A SOUR ONE !!!