Description
I am getting the error "Several of your accounts are having issues." When I click on "Check Again" nothing happens. I am not receiving any new mail. When I click on Manage, I am brought to my Accounts page in Preferences that lists all my accounts with a red warning sign and message stating:
Mailspring encountered errors syncing this account. Crash reports have been sent to the Mailspring team and we'll work to fix these errors in the next release.
It gives me the option to Reconnect or view Error Details (the latter does nothing). Clicking Reconnect asks me to sign in to my account again. When I do this, I'm taken to my gmail sign in, input my information and re-authenticate Mailspring's access to my account. After authenticating I am taken to id.getmailspring.com/oauth/finished but am getting a warning:
Your connection is not private. Attackers might be trying to steal your information from getmailspring.com (for example, passwords, messages, or credit cards)
I get the same error when I try to go to getmailspring.com
Returning to the app after re-authentication, at first the red warning label on my account goes away, but then it immediately returns.
I thought at first that maybe I needed to update my application (I am on Mac using version 1.10.3-a476c230) but when I check for updates I get the following error:
There was an error checking for updates. The certificate for this server is invalid. You might be connecting to a server that is pretending to be "updates.getmailspring.com" which could put your confidential information at risk. Would you like to connect to the server anyway?
My only option is "OK" which once again does nothing
To Reproduce…
Steps to reproduce the behavior:
I don't know, just open the app! I have used this fine for the past few weeks, and excitedly so! The client is great! When I opened it today, this is what happened.
I tried restarting the app. This had no affect.
Expected Behavior
The app to work and not give a bunch of frightening security warnings! The website for this app to not suddenly be down?
Screenshots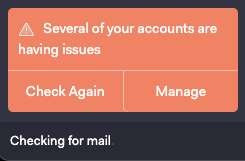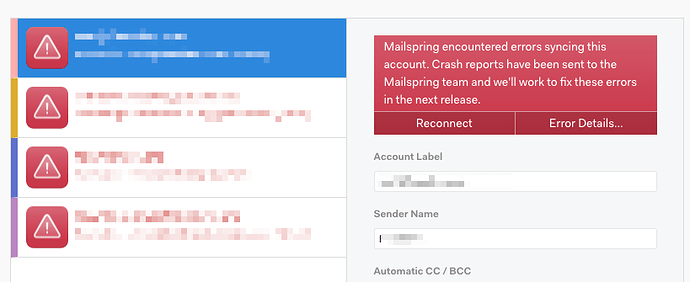 I have more screenshots but can't embed them, great.
Setup
OS and Version: macOS Big Sur 11.6.6
Mailspring Version: 1.10.3-a476c230
Additional Context
This is extremely concerning. I have no idea what's going on, but I need an explanation. If my data is at risk or has been compromised I want to know. What's more frustrating is not being able to find any dedicated support email address to report this. And it's concerning to not see any activity in this forum.