Description
When trying to setup an Office 365 corporate (university managed account) the opened window (setup) reflects an error and the Mailspring account is not effectively created.
The error message is "Sorry, we had problems to initiate your session" (translated from spanish)
And "ErrorNamespace IMAP"
To Reproduce…
Steps to reproduce the behavior:
"Add account "menu. Then, on account type selection window click on "Office 365" After introducing the university email, it redirects to the university auth page.
University account page opens, where I authenticate with my credentials (successful)
Redirects to Mailspring page "You're all set! Go back to Mailspring to finish linking your account and configuring the app."
Back in the account page it shows the uploaded imaging stating that the account creation has failed.
Expected Behavior
I expected the account to be correctly setup as I did before with other non corporate Office 365 accounts with no problem
Screenshots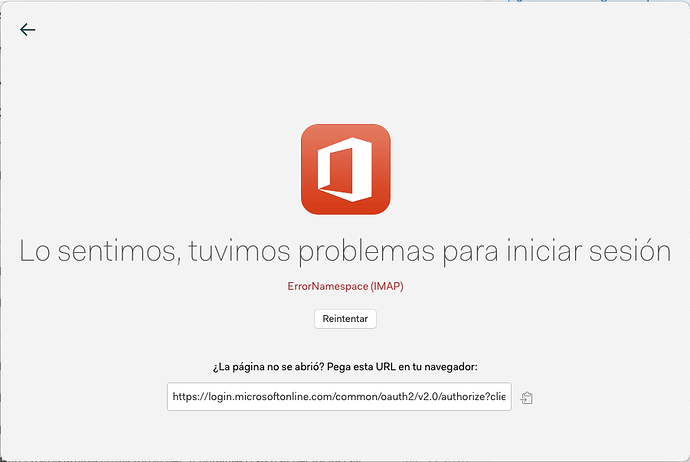 Setup
OS and Version: MacOS 12.2
Mailspring Version: Version 1.9.2 (1.9.2)
Additional things
The name of the University is UNED (Universidad Nacional de Educación a distancia) and the webpage is
This is the login/auth page:
https://sso.uned.es/sso/index.aspx?URL=https://login.uned.es/ssouned/login.jsp
That's all. Thanks.