Description
To Reproduce…
Steps to reproduce the behavior:
Added a new Gmail account.
On the Google page to sign in shows that.
Screenshots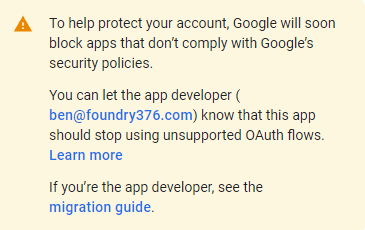 Setup
OS and Version: W11 Pro 21H2
Installation Method: .exe from Github
Mailspring Version: 1.10.3-a476c230
Additional Context
I don't know if this applies to all Gmail accounts, but the one I used on this instance keeps getting disconnected every day. I think THIS is the issue I am having regarding the disconnection.