Description
After uninstalling the stable running V1.9.2 I tried to install V1.10.0 The installation process ended with an error dialog box '… better_sqlite3.node is not a valid Win32 application'. The error dialog box appears infinitely again regardless of the action taken – hitting 'okay' or closing the window. I also tried cleaning any remaining Mailspring files from the system after a second uninstall try and before a new install approach. The same behavior occurs. The same behavior occurs when the mainspring task is killed via task-manager and then manually started again.
Workaround
For a Workaround, until this is resolved, please see: Database Error and unable to launch app after installing V1.10.0 - #11 by Predeactor
To Reproduce…
Steps to reproduce the behavior:
Uninstall existing Mailspring app via Settings > Apps > Apps & Features
Install V1.10.0 MailspringSetup.exe
Receiving error
Perform 'any action' with the dialog box
Receiving error again
Expected Behavior
I expected to (a) have a functioning Mailspring app again, maybe with the need of reconnecting accounts. Or (b) after clean re-install to have a functioning app which needs to be completely set up again.
Screenshots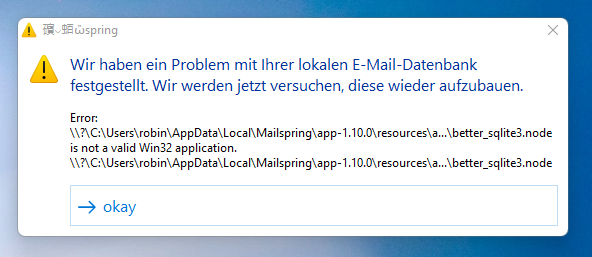 Headline translated: 'We have detected a problem with your local email database. We will now try to rebuild it.'
Setup
OS and Version: Windows 11 Pro (10.0.22000 Build 22000)
Mailspring Version: 1.10.0
Additional Context
Each time, after the install attempt ended with an error, the app again can be found as an installed app within the system 'Apps & Features' overview.
I found someone who might experience the same issue
Installing V1.9.2 however works fine and as expected.